Profile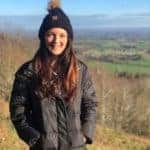 Bethany Jones
Bethany Jones is a member of:




About Me:

I live in a village just outside of Worcester in the West Midlands. When I'm not at work you'll either find me on a netball court or planning my next trip abroad! I love animals and love to travel!

Read more

I love an adventure, whether that's in the UK or visiting another country. I have been lucky enough to travel to lots of different countries over the last 1o years and love that I can do this alongside working. I particularly enjoyed travelling around Sri Lanka where I volunteered in an infectious diseases hospital. My most recent holiday was to Peru, where I completed  4 day hike to Machu Pichu.

I like to keep fit, and generally find playing netball the most enjoyable way to do this. I played competitively over the UK throughout my time at medical school, but now prefer some friendly local competition.

I have a whippet called Beau who is just delightful. She loves a long walk in the sunshine, or cuddling up to me on the sofa.

My pronouns are:

She/her.

My Work:

I am currently completing my GP training after working for 4 years in the hospital setting. I absolutely love my job, and am forever grateful for the variety which it brings everyday!

Read more

Being a GP trainee/registrar doesn't mean only working in a GP practise. 12months of this training is working in hospital. I am currently working in a mental health hospital on my psychiatry rotation and will shortly be moving to A&E, and then onto Women's Health and Pregnancy, (referred to as Obs and Gynae).

In addition to my routine day job I get to do lots of different things, including research, education, and projects which can take you all over the world. During the Covid Pandemic I completed research looking into the survival rates of patients needing support with their breathing. I then travelled to different European Cities to present this research, and enjoy some free time on the beach!

My Typical Day:

I wake up at 7:30 and head to work shortly after. I see patient in my morning clinic and then have a nice lunch with my friends. I will either complete a home visit to review a poorly patient, or catch up on my admin, before heading home at 5pm.

Read more

I wake up at 7.30am, have a quick breakfast and take my dog for a walk. I head off to work for 8.30 where I will start to see patients who have been referred for a specialist assessment of their mental health needs by their GP. This can be for anxiety, depression, or other complex difficulties. It can also be for people who are showing signs of dementia and need assessing for this. I will then have lunch with my team and go for a walk around the park. I often have a 1 hour teaching session after lunch, which is great to have a catch up with my friends whilst learning something new. I will often do a home visit in the afternoon if there is a more complex patient who is struggling to leave their home. I head back to the office to catch up on my admin before heading home at 5pm.

Every 2 weeks I have an oncall shift, which is 24 hours, but is non-resident, which means I am based at home and travel into the hospital as required. Generally we don't get too many calls, but if we do it's for patients who have been sectioned (when a doctor assessing someone who needs to go to hospital against their will to help with their mental health) and they need admitting onto the ward. We will do basic investigations for example ECG (heart tracing), blood tests and examinations.

Of all the jobs I have done, this is by far the least stressful and non-rushed.
---
---
---