Profile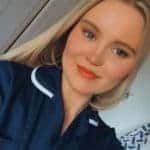 Georgia Hunt
Curriculum Vitae

Education:

After secondary school, I went to Sixth Form and completed A-Levels in Psychology, Media Studies and English Literature and Language.

I then completed one year of a Public Health degree, before realising I wanted to be a Nurse and switched courses.

I attended the University of Derby and gained a First Class Honours degree in Adult Nursing.

Ever since, I have completed lots of qualifications to be a Practice Nurse, including a Level 6 Asthma course.

Qualifications:

GSCE-s As, Bs and Cs

A-Levels – BCC

Certificate of Higher Education in Public Health Diploma

First Class Honours BSc (Hons) Adult Nursing

Level 6 Diploma in Enhancing Asthma Care in Professional Practice

Work History:

I have worked in a GP surgery since I was 16 years old as an admin worker, receptionist and phlebotomist.

Then, I went straight into Practice Nursing at a GP surgery in Derbyshire and now I am moving to a different GP surgery (still in Derbyshire!)

I work part-time as a New to Practice Ambassador at the Derbyshire Training Hub – which means I look after all the newly qualified or new-to-practice nurses in Derbyshire who work in a GP surgery.

Current Job:

Practice Nurse

New to Practice Ambassador

Georgia Hunt is a member of:




About Me:

Hi everyone!

My name is Georgia. It's lovely to meet you! I'm a Practice Nurse and outside of work, I like to spend time with my Greek rescue dogs, read and wild swim. My favourite books are Harry Potter and I love to blast Taylor Swift in the car.

My Work:

I am a Registered Nurse working as a Practice Nurse at a GP surgery. I qualified in March 2021 and graduated with a First Class Honours Degree in BSc (Hons) Adult Nursing at the University of Derby.

I have since gained qualifications in Cervical Cytology, Asthma, Immunisations and more! I run a small business selling Practice Nurse flashcards to help other nurses, and I have a part-time job as a New to Practice Ambassador, supporting new Practice Nurses as they embark on their new career.

My Typical Day:

In the Spring/Summer, I wake up at half 6, get ready with a coffee and sit in my egg chair outside with a book till I have to leave for work at 7:20. I then drive into work and start my day at 8am. In the Winter, I wake up at 7am, chug a coffee whilst I get ready and skid into the car park at 07:59am (safely) :). I see around 30 patients a day for various things and then I go home when the surgery closes around 6pm.

Read more

A typical day at work includes seeing multiple patients for various skills every 10 or 20 minutes. I perform smear tests (this is when we take a sample from the cervix, which is the neck of the womb, to check for abnormal cells). I also carry out childhood and travel vaccinations, which you may have had as a baby or perhaps before travelling around the world! As I am trained in Asthma, I take care of all the patients in the surgery who have Asthma. This may be for adults or even children (sometimes as young as 3 years old!). I teach them how to use their inhalers, what to do if their asthma gets worse and check how they breathe through a funny machine called a Peak Flow Meter.

I also take bloods, do blood pressure checks, dress wounds, perform contraception reviews and much more!
---
---
---