Profile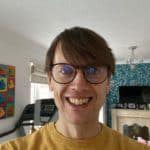 Paul Clarke
Curriculum Vitae

Education:

After secondary school, my education has been through various part-time study as an adult.

I've studied with Leicester University, Open University, Northampton University and now I'm back with Open University doing Cyber Security.

Qualifications:

NVQ 3 in Health and Social Care

Foundation Degree in Managing Voluntary and Community Organisations

University Certificate in Understanding Brain Injury

Work History:

Various charities for the past 20 years:

Derbyshire Autism Services (Service Coordinator)

Derbyshire Advocacy Service (Advocacy Coordinator)

MacIntyre (Head of Service)

Headway (Chief Executive)

Age UK (Volunteer Coordinator)

Current Job:

Lead Social Prescribing Link Worker for ARCH Primary Care Network

Workplace:

I belong to the Personalised Care Team, which is all about making healthcare more individual to each person.

Paul Clarke is a member of:




About Me:

I live in Derbyshire with my wife and 2 children (and the cat). I'm the lead social prescriber for my team, but when I'm not at work I'm usually studying for a degree in Cyber Security. I go running as much as possible and will attend any running event where they give out medals at the end.

My Work:

I'm the lead social prescriber for 9 G.P. practices in Amber Valley. We are a team of 6 social prescribers who help people to improve their wellbeing through linking to community resources.

My Typical Day:

I start work at the office at 9am. Most of my day is then spent out in the community, either visiting people at home, taking them to local groups or services or meeting people who run services to help them develop. I work part-time so usually go home at 3pm.

Read more

Although my role is within the NHS, because it's all about linking people with their local communities I am employed by Amber Valley Council for Voluntary Services – I start my day at the office there. After a coffee and a quick check for any new referrals, I head out on my first visit. I work with 2 large G.P. practices in Ripley, so I never have to travel for long. I always meet people at their home for the first time, so they are relaxed and I can get to know them – each meeting takes about 1.5 hours and we talk about whatever is important to the patient, we then create a support plan together which details what the patient wants to achieve, who we are going to work with and how we're going to do it. I go to lots of community groups, this week I've been to a craft group, a coffee and pool group and a singing group. I'm usually out for most of the day seeing people at home or in the community, then I head back to the office to write up all my notes about the visits and plan future visits.
---
---
---