Profile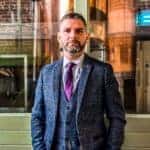 Thomas Buxton
Thomas Buxton is a member of:




About Me:

Hi, I'm Tom, married with a son and a daughter, living in Lincoln. I started off my career in the British Army before been injured in service and having to come out, leading to a career of 15 years as a Bodyguard. Once my daughter was born I decided to pursue my other love of Emergency Medicine.

I'm a professional Scuba Diver. Love my photography. Thoroughly enjoy Indian and Chinese food.

Read more

I joined the Royal Engineers aged 17, way back in the 90's. Learnt a wide range of skills including bomb disposal, boobytrapping and mine warfare. This is where my first trade training started, I became a welder, fabricator and blacksmith.

Due to injury in service I was War pensioned out and started working with an old friend and ended up in Canada to be a bodyguard. I spent 15 years travelling the world, living the high life and experiencing different cultures. As part of my bodyguard licence and client needs I did my ambulance technician training in 2005. Something that would prove of benefit later in life.

Due to unfortunate life stressors I ended up homeless in 2013 and spent 19 months on the streets in Lincoln. But where there is a will there is a way, I bounced back and started the move to develop into a Paramedic. I have now been a Paramedic approaching 3 years and wouldn't change my career now.  The difference we make to the lives of others is extremely rewarding.

I have also spent 2 years living in Malta as a Scuba Diving instructor, gaining my Divemaster qualification and working as a rescue diver.

My pronouns are:

My Work:

Read more

I have now moved from working on the Ambulance in what you would consider a "normal" role for a Paramedic and now work in Primary Care. This is settings such as Urgent Treatment Centres and GP Surgeries.

I currently work direct for one Surgery and then for a Primary Care Network (PCN) to which manages 9 different surgeries.

My days vary considerably, I could be dealing with anything from chest infections, respiratory conditions, wounds, chest pains and acute conditions. If we get any emergencies walk into the surgery or have a home visit I would deal with these also, this could be strokes, loss of mobility. I also still attend cardiac arrests in the local area and I am on permanent call for these.
---
---
---